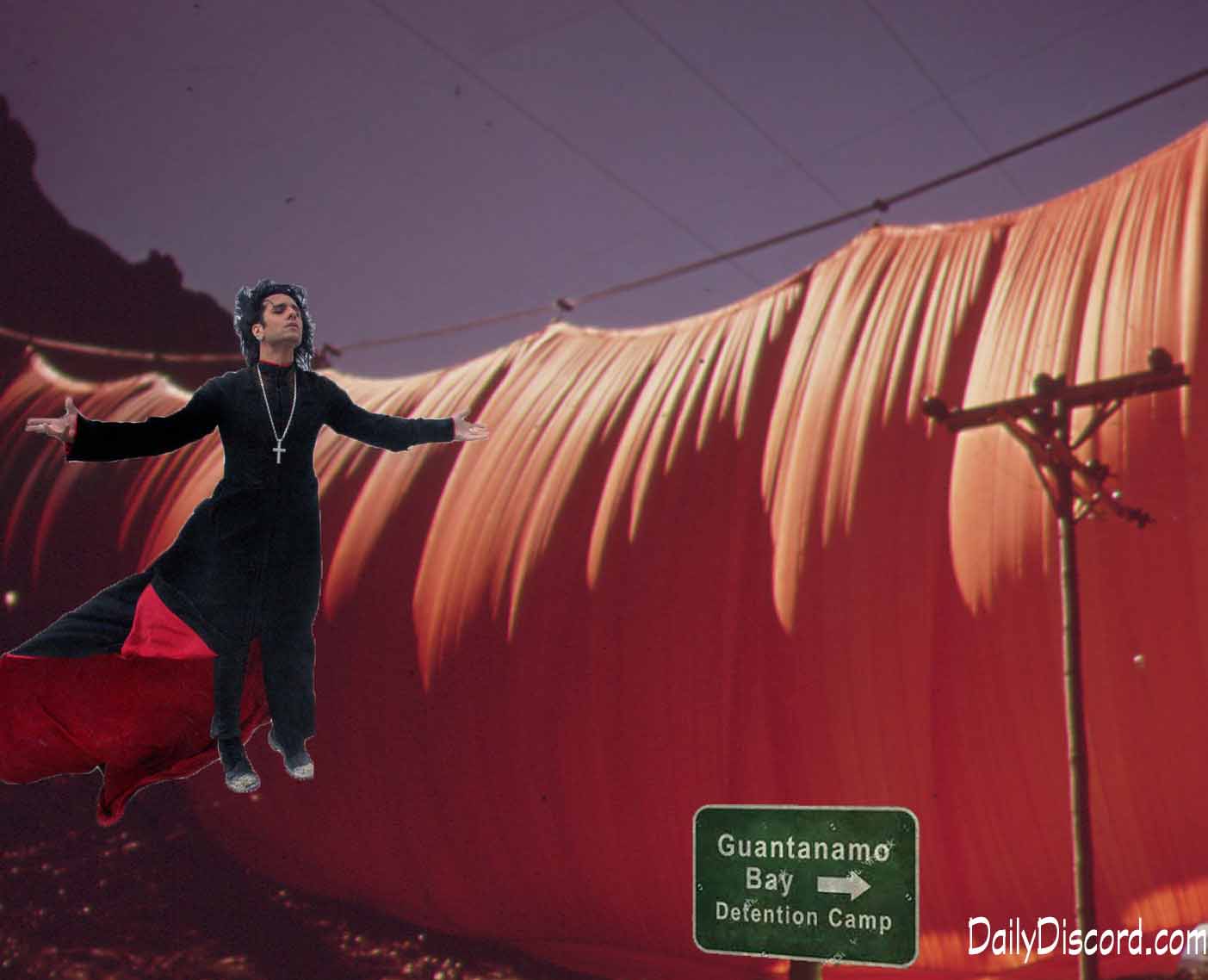 Washington, DC—President Barack Obama was all smiles today as he and the First Lady watched magician Criss Angel's performance at Guantanamo Bay. The 48-year-old illusionist wowed a large live audience with his most elaborate trick to date. At the start of his act a giant cloth surrounded the notorious detention facility, Guantanamo Bay, but when the cloth was dropped only an empty landscape remained. Critics are calling the move a gross violation of the Constitution. Presumptive Republican nominee, Donald Trump, said, "Obama is dumb. He's dumb. A. He could have had Cubans build the giant cloth around Guantanamo and 2. the trick should have made the prison grow larger. I want to round up every ISIS and Al-Qaeda member in the world and put them all into my larger camp, which I will rename Trump Torture. I might employ Mr. Angel to make the Red Cross disappear."
President Obama responded, "With this Congress to get things done you have to think outside the box, even if said box is being sawed in half by a magician (Heh, heh). Technically, I did not authorize Mr. Angel to make Guantanamo Bay disappear. What I did do, which is in line with my authority as President, is issue an executive order to have him perform at Guantanamo Bay. If the facility is truly gone, which it appears to be, I will pardon Mr. Angel for this reckless and unauthorized action." Obama is denying allegations he has booked Mr. Angel for a similar stunt in front of the House of Representatives in April. "I'm calling this one: it's curtain's for Congress," said Mr. Obama.
Criss Angel is denying a political motivation behind his stunt. "Look, Copperfield had the whole disappearing Statue of Liberty thing and the disappearing plane thing," said Mr. Angel. "So I thought to myself—totally independently and without any federal encouragement or monetary incentives—why not make this national embarrassment disappear?"
Angel later clarified his statement as the Republican nomination hopefuls were all convinced he was referring to them.
(Visited 1,021 times, 1 visits today)