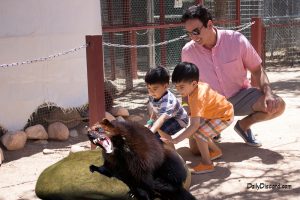 San Diego, CA—After the incident this weekend that claimed the life of eight year old Bobby Turner, the petting zoo management of WolverDreams Inc. announced it will be closing its doors forever. Little Bobby's visit, which was originally arranged in conjunction with the Make A Wish Foundation, ended the life of a young man a few weeks prematurely. Bobby was given only a few weeks to live due to inoperable nose cancer. Bobby's parents told the press his bucket list still included: giving Sally Phillips a wedgie, attending a cock fight, and punching a senior citizen in the face.
The owner of the petting zoo reports this was the 7th such incident since their doors opened last July. The teary-eyed owner, Clive Tucker, told the press today, "We are all shocked and saddened by this latest tragedy at our petting zoo. We just wanted to put a smile on the face of some youngster, not have that smile ripped from said youngster's face. After reading Bobby's bucket list, I went ahead and punched two senior citizens in the face. Never cared much for the in-laws anyway. Seemed like the right thing to do in Bobby's honor. We set up a Go Fund Me Page for my in-laws' faces. Even Medicare part B wouldn't cover all the associated healthcare costs. You can also pay with Punch Pal."
In related news, the Timber Wolf Mistakenly Reintroduced Into the Mall of America.
(Visited 370 times, 1 visits today)