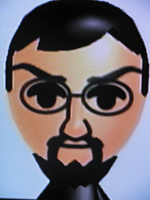 Real men are integral men.  Meditation increases blood flow to the brain, thickens the cerebral cortex, boosts immunity, lessens stress, promotes better sex, and promotes better everything, frankly.  In response to your 'tribute to Cheney' article, and other slams on yours truly, the John Wayne's of the world have had their time.  Whereas I can commiserate with your touch of nostalgia; Bush's cowboy brand of justice is out of style.  That is not to say aspects of this perspective aren't sometimes necessary, but the people you champion consistently place personalities before principles (very consistently).
Begrudgingly I admit my own error on Sept 12th, 2001 when I said under my breath, "I'm glad a Republican is in office."
See, I am fallible. I knew, even then, that aspects of green (liberal pluralism) would not work horribly well against red (tribalism) and amber (fundamentalism).  Al Gore may well have hid under his desk, as my mother-in-law asserts.  Who knows?  Regardless, we must elect government officials who function higher along the consciousness spectrum, if we hope to survive as a country.
Bush and Cheney championed a level of consciousness popular in a pre-modern world, and we've seen how effective a John Wayne-esque hero performs amidst a flattening/shrinking global community.  George Bush played John Wayne for eight years, which would have been fine circa 1800-1808, but he tried it in 2000-2008.  All-or-none thinking has no place at the top tier of the U.S. government.  There are more choices than war/appeasement, good guy/bad guy, or friend/enemy.  If you can not see shades of grey, fine, but do the world a favor and stay out of public office.
As for finances, my 401K speaks for itself; it says, "cash me in and by an imported keg."
As for safety, forgive some of us for having reached the point when we feel that our own safety is not worth the cost of millions of other "outsiders."   In a flat world we will never be secure with short-sighted policies.  In fact, we will never be safe as long as we are mind numbingly self-serving.  Your view champions a brand of economic exploitation and cruelty that have followed us through human history since the late Cambrian Trilobite uprising. I believe Hiraldo covered that.
With some skill, luck, and a more integral approach to these issues, America can navigate these rough waters.  Ever since McCarthyism, when the fear of nuclear annihilation hijacked the zeitgeist, our government has suffered from what eastern thought designates as samara, which can be summed up as greed, hatred, and delusion.  This can most easily be applied to gentleman Dick: greed (Haliburton), hatred (torture policies), and delusion (we're making America safe). In my view, integral leadership will embrace human dignity, mutual respect, and mutual interest.  You will increasingly here these concepts as we move forward into the new millennia.  Unless, of course, one of your peeps gets the nod, in which case it's naked pyramid time (NPT).
"Go away?  Get over it?"  Goomis, Goomis. Whenever we think the basement has been reached new evidence is revealed.
In a recent Washington Post article, Karen DeYoung and Peter Finn asserted: "The previous administration a) tortured detainees, making it harder to prosecute dangerous terrorists; b) released bad guys while detaining good guys; and c) neglected to keep comprehensive files on possible terrorists who've been in U.S. custody for several years."
Even if you support a more empire-esque approach to battling the heathens, how is this helping?   In an attempt to head you off at the all-or-none pass—no, everyone against torture is not against interrogations of any kind. Nor do we all believe that detainees should all be released with a nice fruit basket and an apology letter.  There are ways to keep us safe without losing who we are or the rule of law.
Channel 4 News (BBC) two weeks ago broke the story how the Bush Administration threatened the British Government if allocations of torture were made public in the case of British detainee Binyam Mohamed (then part of Bush's top secret: Operation Scrotal Electrode). The U.S. State Department warned that any release of torture evidence during the trial would "result in serious damage to US national security and could harm intelligence information sharing arrangements between our two governments." Bush and Co. were quite willing to give up intelligence gathering with our staunchest ally, further endangering our troops as well as homeland security, to cover for their own war crimes.  Your 'heroes' went on to say the release of any torture allegation in court might cause "serious and lasting damage to the US-UK intelligence sharing relationship, and thus the national security of the UK."
Real men are apparently traitors.  I think profiting off of the death of U.S. soldiers is treasoness as well, but at this point who's counting? Oh yeah…ME!
On a side note, I have consistently asserted that Tony Blair will be the only one to remain silent.  Blair probably despises Bush more than anyone, but his legacy is too intertwined with Bush's to ever come clean. I pity him. He was far, far shrewder than Bush ever was, and he deserved better.
The crime is Bush, and the cover up is Hannity.  My self-righteous ire stems from Hannity's miserable and futile attempt to rewrite history.  Bush will forever wallow in the bottom tier of American presidents and only if no other shred of damnable data emerges (not bloody likely).  Bush and his minions will likely sink to the level of 'worst ever.'   People who think his legacy is salvageable are dead wrong, as they have been wrong all along about nearly everything.
Your point about my self-righteous ventings is well taken. After all, human bravery starts with self-knowledge and each challenge must be shifted into the bodhi (sorry, another vocab word).  Appointing blame has little to do with an integral practice.  Essentially you are right with your mirror analogy.  Bush is a reflection, but not of me.  He is the reflection of a sick collective, fraught with fear, addictions, and psychotropic medications.  Instead of damning or championing these events, we should be shifting toward common support for this new administration to better align ourselves with the Tibetan's pawo, the Toltec's warrior's path, or the Ghetto Shaman's Naked Midget Reiki.
You stated in your article, "I don't like anything I see."
Er…while you were still cheering on the 'War on Error' that was my position in 2002. Welcome aboard the S.S. Disillusioned (better late than never).
You are afraid of the do-gooders of the world and any projects designed to correct problems on a governmental level, yet you didn't support Ron Paul?  If you recall, he was my pick for the Republican ticket.  Over the last eight years Republicans ditched fiscal responsibility and small government and then, the moment the Dems get in, it's "oooh, oooh, there they are under the table."
You backed the fascist and now you are lecturing others on fascism?  Yes, the liberal media sucks, but why do you still support the Washington Talking Points Network?  The Discord's Integral Media segments have rated both Republicans and Democrats harshly.
You should fear the libetards but don't fear integral leadership.  Ultimately, whereas your version of leadership will affect me quite negatively, my version of leadership will not affect you, well, not negatively anyway.  You can go on to rant in your columns.  Unfortunately champions of your level will impose their own level onto others.
Since this is 'world gone wild' time, and, sadly, I'm not talking about perky spring breakers; it's time to meditate or medicate.  There are fewer and fewer choices in between these days as we become a psychotropic nation.
Alas, trying to convince the Bin Ladens of the world that blowing up innocents is not what Allah had in mind, or trying to convince the Pat Robertsons of the world that there are many ways to enlightenment, or trying to convince the Bill Kristols of the world that a free market is not the only God, well, as Ken Wilber asserts, there are better ways to spend a Saturday night.
(Visited 80 times, 1 visits today)