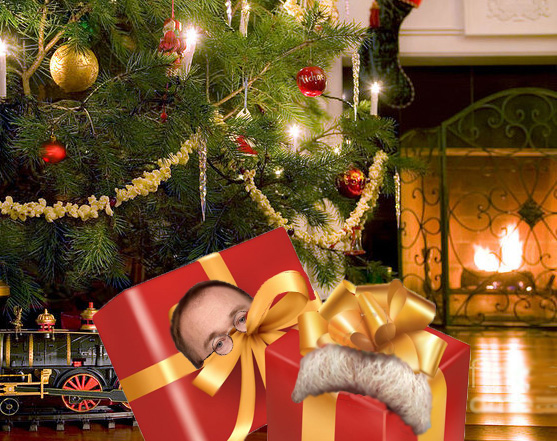 Twas The Night Before Impeachment, and all through the House,
Not another witness was subpoenaed to bring down this louse.
The evidence was presented by the judiciary chair,
In the hopes a conservative senator would bother to care,
The congress sat nestled all snug in their seats,
While delusions of Biden wrongdoing was expounded by cheats,
And Nancy in her 'kerchief, and Dave in his cap,
They'd finally drowned out those brain farts, and the rest of Trump's crap.
When out on the south lawn there arose such a clatter,
I sprang to his Twitter feed to see what was the matter.
McConnell denies any witnesses! A pretty low punch,
So I logged off of NY Magazine, and threw up my lunch.
When what should appear to my blog weary eyes?
But a miniature sleigh, pulled by eight Russian spies,
That crook of a commander, had one last trick up his sleeve,
It was Rudy Giuliani, his lawyer, just back from Kiev,
Then the Donald himself emerged like a sage,
He scowled, and shouted, and tweeted his rage:
Hide Bolton! Hide Mulvaney, and especially Michael Duffey!!
Subpoena Biden and that whistle-dick, enough is enoughy!!
To McDonald's for hamberders! Then out to my beautiful wall!
Senate, wash away! Wash away! Wash away all!! #NoAbuseNoObstruction
Then came a second tweet that I spied on his feed,
Full of perjury, denials, and more sychophantic misdeeds,
Impeachment was DOA in the Senate? Might the king keep his crown?
Down the annals of history, Trump slid like a clown:
But Giuliani returned and he'd gotten the goods,
The Bidens were guilty, so we're all out of the woods!
Trump's tiny hands – how they tweeted! His dimples how merry,
His cheeks were quite a strange color, his hair kind of scary.
He had a broad face, and a little round belly tan,
 Which he sprayed on himself when he couldn't find Kellyanne.
He was chubby and orange, a right jolly old elf,
And he spoke like a numbskull, of barely eleven or twelve.
  Trump sprung to his sleigh, a big tripped out Mercedes,
But Vlad has that pee tape with those fine Moscow ladies!
But I heard him exclaim, ere he drove out of sight
Happy Impeachment to all, except the damn F-ing right!
(Visited 127 times, 1 visits today)