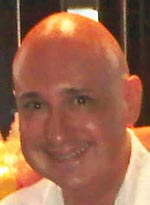 I figured, Zano's been up to see me in Vegas 5 times now, it was fine time to go see him.  Never do this.  He arbitrarily picks a weekend, and leave it to Zano to be completely oblivious about it being one of Flagstaff's biggest event weekends.  Driving into town was worse than going from Caesar's to Mandalay Bay on a Saturday night. Geesh! And I wasn't even getting paid!  I think a 10 to 1 Vegas-to-Flagstaff visiting ratio from now on, Mikko.
The Arizona Cardinals big scrimmage was this weekend, we both hate football, but the Big Red Pour was a beer and music festival right in downtown Flag in honor of the happy pigskin event.  And we do like beer.  Besides, Vegas was about 35 degrees hotter and for that kind of relief I'd even put up with Zano's company.  Mick's brother-in-law, MJ, was in town for the festivities, so when he arrived, we took to the streets of Flag. The town blew me away.  It was the monthly First Friday Art Walk, the AZ Cardinals were in town, and there was a music brew fest, all within a couple of blocks. Guitar and bongo players on every corner and an umpa band outside the German restaurant.  Wow!  Two hotel bars, three brewpubs, two Irish pubs, and one very intoxicated Partridge in a fermented Pear Tree. We hit em' all.  And the Weatherford Hotel has the most amazing old hotel bar I have ever seen, and I'm from Vegas, baby!  It features the Zane Grey saloon, an old ornate western bar shipped in from Tombstone, complete with a wraparound third floor balcony. And if that weren't enough, free popcorn!  Apparently, this is where Zano, Fenski, and Alex Bone meet each week both to the delight and horror of Discord fans everywhere.
MJ and Mick told me a story about getting kicked out of there one night, by throwing legions of coasters up into the chandeliers and harassing the help.  Back in the lobby, they met the perfect foil.
Mick walked up to the manager and asked, "If we're thrown out of the Zane Grey, does that mean we're thrown out of Charley's?  (The Weathford's downstairs bar).
He of course, said, "Yes!"
So, arm in arm, they walked back up the stairs to the Zane Grey.
"Where are you going?"
"You said we were kicked out of Charley's?"
This went on for several minutes.  The manager/foil managed to keep saying the perfect line, sending MJ and Mick, not out onto the street but, rather, walking past him between the two bars to the backdrop of the manager's increasingly bulging neck veins.
At the brew fest, the Big Red Snore, we paid 10 bucks each at the door and twelve more for 10 four oz pours.  They had everything ranging from crappy light beers to crappy pale ales.  Honorable mention to Shiner Bock dark lager.  Yes, it was that bad.
A drunk woman accosted me for beer coupons, and then said, "Sorry, I'm obnoxious."
I said, "Hi obnoxious.  Nice to meet you.  I'm apathetic."
Dustin, a brewer at Four Peaks, one of the better breweries in AZ, was there.  Mick and MJ proceeded to wow him with their Beer Geek Speak (BGS) for what seemed an eternity, while I chatted up Enya, a cute Australian exchange student.  MJ and Mick then butted in and ruined my moment:
MJ: So where are you going after the fest?
Enya: Back to my place to sleep.
Zano: OK, if you insist.
The music was pretty good, but with three pints in us, 4 oz times ten, we headed out for adventure.  Overall, Flag really rocked that night. It has a kind of a hippy, animal friendly feel to the place (which is why Zano is tolerated). And one coffee shop is better than the next.  Funny thing, but Mick seemed to know all the bartenders and police officers…imagine that.
We skipped the second day of the brew fest due to our ailing livers.  We are not 21 anymore, even though we act like it sometimes.  Day two, we drank chamomile tea, coffee, and ate stomach friendly foods.  But we're heading to a party now and tomorrow it's hiking in Sedona, so I guess there's little left in the tank.
(Visited 88 times, 1 visits today)