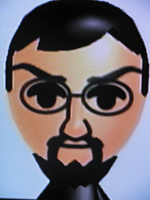 Beware!  The patriotards are reconstituting themselves, like those tiny Terminator droplets that reform when you're not looking.  Patriotards are folks still confused and/or ambivalent about the Bush Administration's legacy.  And, to set things right, they believe all this country needs is President Sarah Palin. A recent Rasmussen poll, my main reason for this post, finds 42% of this country ready and willing to vote for Palin in 2012.  Forty-two percent…this country…Earth, you betcha ya.  And this number will only increase with another attack.  One peep from Al-Qaeda and the patriotard hordes will seep out of the woodwork like, well, those Terminatorites.  As Bill Maher put it, after the next attack we'll tear up the other half of the Bill Of Rights and Toby Keith is president.  This Rovian wave of nationalistic neurosis is the heartland of Patriotard Country.  You still don't understand the patriotard menace?  Let me splain.  No, that will take too long.  Let me sum up…
It's a free country (used to be anyway, before your last brainchild), so go ahead, vote for her.  But finding a way to identify and track Palinites is important sociological research.  We can call it the slow-jack.  You see, waving an American flag doesn't necessarily mean you're patriotic.  Patriotards, while waving such flags, have done more damage to our country then both reality television and 'alternate side parking' combined.   I know what you're thinking.  How do you stay patriotic and intelligent, Mick?  Well, that does seem to be the issue, doesn't it?  Patriotism these days seems to suggest an almost Sean Hannity-style level of denial.  Let's say, for argument sake, Christopher Hitchens throws his hat into the ring in 2012. Now, I don't agree with a lot of Hitchen's policies, but I would consider voting for him, in fact, I probably would, because he's fiercely intelligent. He embraces the heart of entrepreneurialism, small government, fiscal conservatism, and would be keenly shrewd on foreign policy.  He's not even my brand but I clearly respect the model.  Palin fans wouldn't like him, probably don't even know him. 
Why do patriotards insist on the lowest common denominator? Why not find someone to champion your views who isn't dating Cleetus the "Slack Jawed" Yokel.  I am petitioning the American Psychological Association to add a Pervasive Patriotard Disorder to the new DSM-V in hopes a viable treatment can be developed.
If you support Sarah Palin you are simply a Fox-only-watcher (FOW), or, well, the other option is even less charitable.  Look, I have nothing against Sarah Palin. That's just a banana in my pocket, really.  I don't mind idiots; I just don't want any more for president, thanks.  People say, Mick, you're afraid of her because she's popular.  Whaaa?  I'm afraid of people in their forties going on sixteen…especially ones with aspirations to be president. But let me make this perfectly clear: the media hasn't duped me into despising her; she's just obviously petty, inarticulate, and her politics, what can be gleaned of them, are pathetic.  I based this determination not on the media's coverage of her, but on the strings of unrelated words spewing out of her mouth that she calls sentences. 
The most recent patriotard pet peeve (PPP) about Obama involves all of the czars he is currently appointing to head everything from the auto industry to the porn industry.  I always wanted to be a porn czar.  Obama is simply continuing Bush's expansion of power.  This isn't algebra, folks.  Czars are answerable to no one but the President, so Obama can avoid congress and those pesky cabinet posts by appointing as many as humanly possible.  The patriotards cheered on Bush's czar power for years. So it's OK when your guy spawns this evil precedent, but now you cry foul? Anyone who passed civics class can tell you it's too late once you let the czar out of the Kremlin.
Obama is the most powerful president ever.  He's an Uber President.  Look, let me borrow a Crank-style analogy to help.  If someone gave you a Dodge Viper on Inauguration Day, are you really going to jump back into the Ford Escort for four years?  Please…  Let him take these new executive powers out for a spin, will ya?  Torture some bad guys, hire some death squads, maybe even appoint me as porn czar (I work cheap).
Now here's my plan to restore order: "Know Soap."  Obama can clean up on the way out.  Now hear me out on this. The only thing this democracy still has going for it is term limits.  If he does actually leave office when he's supposed to, he could throw the keys to the Dodge Viper into the Potomac on his last day in office.  Restore order on the way out.  It's brilliant!  This way he gets to have fun and we get our Constitution and our Bill of Rights back at the end of his term.  Not much of our country will be left by then, of course, but not much of it's really left now.  It's just the patriotards haven't gotten the memo yet, is all.  Hint: they're a little slow. 
Now to keep the Crank a little less cranky, there's another end of the spectrum.  If you think Nancy Pelosi is doing a bang up job, welcome to the libertard club.  I agree with the Crank on the danger of libertards (another sure sign of the apocalypse).  The Crank feels most people are in themiddle of these two extremes, but I see it differently.  I think Karl Rove ordered everyone behind door number one, or door number two.  His politics of polarization worked far better than even he could imagine.  Americans now side with one group of developmentally disabled politicians or the other.  I think there are two countries, and I don't like either of them.  About 42 percent of the country consists of patriotards, 45% consist of libertards, and 12 percent are hopelessly ambivalent.  Who's left, you ask?  Yes, I'm talking about the Transcosmetic Party!  We need more integral voices.  The fighting one percent! The army of integral thinkers…onward Wilber soldiers!  
Oh, and Barak…I know you want to go on this joy ride of yours for awhile, but please stop riding the collective clutch.  A second stimulus?  Stop.  Please, just try male enhancement products. 
Oh, and I will be submitting my resume for porn czar shortly.  Open your minds real wide.  
(Visited 122 times, 1 visits today)