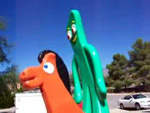 The point from my last feature that Zano continues to ignore is how Beck recognized that "yes" radical Islam was getting out of hand. He did this as our President was doing victory dances, pulling troops out of the Middle East, and calling the Islamic radicals "the JV Team". Obama has a host of actions that make little sense when one considers the context of the rise of a terrorist network, globally peddling their wares. Kora-Amway?
Our President encouraged the "Arab Spring" in Egypt that brought the Muslim Brotherhood to power. He invited representatives of the Muslim Brotherhood to the White House and provided them with aid. History tells us that the Muslim Brotherhood is the source of Al-Qaida, Hamas, and ISIS, and all Islamic Jihadists, but our President continues to promote a foreign policy that promotes the Muslim Brotherhood and their interests.
Oh yeah, our President and Mrs. Clinton supported the overthrow of Kaddafi, which led to the empowerment of more Islamic Jihadists. The President is encouraging a deal with Iran (Islamic Jihadists) that will encourage their empowerment in the region. And at a time when Christian persecution from Islamists is at an all-time high, this administration never, to my recollection, ever uses the term "Islamic extremists" or "Islamic radicals" or "Islamic meanies" or any other reference to Islam. Obama's message? Muslims are all loving folks who have endured Islamophobia from insensitive conservative Christians who cling to God and guns." And how about the term "Christian victim" or "Jewish victim?" Don't you think it's odd that this administration never acknowledges the religious targeting of Christians and Jews? Oh but he's quick to mention the "black victims" and the "whitish assailants."
That's what stinks with this Ferguson deal being connected to the Civil Rights movement. If I didn't know better, I'd say that enemies to our nation, such as the Muslim Brotherhood and their satellite branches, were funding this PR campaign that shows the world how "racist" the conservative Christians who cling to their guns and God are, so that they may gain support from alienated blacks within the United States. That's a great strategy. First, strip our nation from all principled values so that our children become increasingly immoral, frustrated, and purposeless (See: Zano's college career). Next you show the United States to be a racist satanic monster, then you recruit "Islamic terrorists" from the confused and frustrated youth within the United States.
Whether what's going on arrives in a caliphate form or not, those individuals in the Middle East who call themselves Islamists—and who kill Christians, Jews, and even satirists—are purposefully trying to bring about Armageddon. And those who share in their worldview, whether they are united or not, are filtering into Europe as the Jews are being pushed out of Europe; and they plan on destroying Israel; and they are already organized in every state of our union. They are indoctrinating the young and the ignorant from around the world, for their message is simple and glorious: Allah wills Islam to rule the world through the might of the sword, and those who are courageous enough to wage this war for Allah will live joyfully in heaven forever, with lots of chicks, dental plans, free Wi-Fi etc. The brochure is tempting.
The way to defeat a worldview is by confronting it with a better worldview. That's what it seems like President Obama is trying to do with his (and your) humanistic, atheistic, progressive spiritualistic hodgepodge. But the Islamists aint buying it. Humanism only emboldens Islam as they become further convinced that our hyper-secular, hyper-sexual-pornographic, hyper-liberated-abortive, hyper-technical push the button bombs, and hyper-commercial humanistic society is indeed Satanic (See: Zano's post college career).
There are only two ways to confront the radical Islamic worldview:
1.) Truth.
Jesus Christ is not a mere prophet, but Jesus is God incarnate, and only through Christ's sacrifice is forgiveness and redemption gained.
2.) Action.
Their military success shows them that Allah is on their side, so we must show them in no uncertain terms that Allah is not on their side.
Those who hold this "Islamic Jihadist" worldview want to bring about Armageddon/WWIII. It is a barbaric/hateful/racist worldview that realistically threatens the entire world. Meanwhile our Executive administration does not call them out for what they are. They are too busy highlighting the "evils" of our own nation in the form of: homophobia, to a war on women, to a systematic racism or highlighting an oppression of the poor.
"Evil only triumphs when good men do nothing."
—Edmund Burke
Although, I am not in any way suggesting you're a good man, Zano. Is that a retraction? Sorry, I'm new at this.
Oh, I kid the Zanster.
(Visited 76 times, 1 visits today)