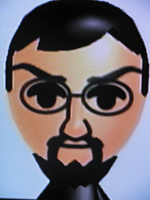 The origins of clinical neuropsychology are rooted in efforts to address the effects of head injuries sustained by soldiers during World War II.  Neuroscientists prefer to study brains when they are not functioning properly, Abbey Normal, if you will.  In other words, why wait for the next world war?  There is a wealth of knowledge studying Bush and his minions, right here, right now (Jesus Jones, 1990).  Bush can, and should, be studied in every psych 101 class.  He is the quintessential example of almost every brand of tortured logic.  Robert A. Burton, MD has recently spent a great deal of time studying the neural underpinnings of knowing, and what he discovered, much like Pokey's fascination with the Shit Goblins, is both intriguing and frightening.  Dr. Burton looked into how we know what we know, and his answer is surprising (he doesn't know). 
First, here's what we are certain about certainty.  Cognitive dissonance is that quirky tendency to continue to cling to a belief despite overwhelming conflicting evidence.  My favorite example involves an exit poll during the 2006 election, wherein 70 percent of Republicans polled in Kansas felt Bush was doing a good job (2006, this millennium, the U.S.A., Earth.  Seventy percent approval rating); roll that around in your mouth for a while.
Delusional disorder is fascinating from the standpoint of psychotherapy.  Many people with delusional disorder are seemingly "normal", until you mention the Mafia or the CIA and suddenly you're talking to a combination of James Bond and Fox Mulder.  The symptoms of delusional disorder are cross-cultural but the themes are culture-specific.  There is a new American-made theme emerging that I would like to designate "The Illuminati Disorder:.  They are already among us! 
The basic psychological pitfalls we learn about in those Ivory Towers of Academia are the common cognitive distortions.  Briefly, here's a few put into recent historical context (limited to one example per distortion, which proved challenging):
Groupthink: Everyone thought there were WMDs (Reality: it was only one source, British Intelligence).
Conservatism Bias (Ignoring any new evidence.): Stay the course.
Focusing Effect: After 9/11, the world post 9/11 has had a dramatic 9/11ish impact on post 9/11 strategy and 9/11 thinking.  Oh, and by the way, 9/11.
Irrational Escalation: Someone knocked down our buildings.  We cannot find the perpetrator, so let's do something with these bombs.  Where is Iraq again? 
Illusion of Control: I will spread Democracy throughout the Middle East (one naked pyramid at a time). 
Omission Bias: The United States does not torture (unless taunted).
Outcome Bias: Like Truman I will eventually be appreciated for liberating the Iraqi corpses…er, people.
Planning Fallacy (aka, underestimating task-completion): The war will last six days, six weeks, I doubt six months.
Base Rate Fallacy, Framing, and Confirmation Bias (cherry picking statistics.): Fill in your favorite Bush statistical distortion here ___________ .
Post-Purchase Rationalization: Yes it's about the oil and, of course, the value of my Halliburton stock.
Wishful thinking: See any and all Bush and Cheney related statements made between 2003 and 2008.
The best example of Bush mental lapses is called the Dunning-Kruger Effect.  This is a double-your-trouble thought distortion, wherein you screw something up so badly at the onset that you compound the problem by never realizing you goofed.  Example: do I have to say it? These can be overcome through the application of cognitive/behavioral therapy and/or daiquiris.  President Bush, completely abstinent and having no access to a therapist, well, you get the picture. 
Another perhaps less known phenomenon is something called temporal illusions.  Essentially our brain makes believe it knows things it can't possibly know.  Such distortions of reality occur not only on a cognitive level, but also on a perceptual one. Our brain, in essence, fills in the gaps.  This happens as we perceive things and then again, even more so, when we recall those fond memories, like those days in the sewers of Gotham battling back the Shit Goblin hordes.  Can you hear the CHUDS, Fernando?  Essentially those who believe we create our own reality may be onto something, even from a neurological perspective (Pokey is convinced the Shit Goblins have already infested our culture, but how does he know this?). In another slightly less delusional example, I felt Bush was wrong at every turn and on every policy since early 2002, and, as it turns out, I was wrong once. 
Our unreliable memories and interpretations of events are rather stunning. There are at least eight major memory pitfalls to which we are all susceptible. Psychology has come at it from a variety of angles with only one result: we're facockda.  Studies have created false memories in otherwise psychologically healthy individuals (quite easily).  Even knowing the experimental design, participants still refused to believe the memories were false.  Back in Faber College, circa 1987, L. Wolfe, Dave, Pokey, Bald Tony, Oscar, Pierce and I rarely agreed on the events of the night before.  In my version, I always got the girl, won the pool game, outsmarted the TKEs, and ended the night singing a riveting rendition of "Freebird" to thunderous applause (bad example, I really do sing a mean "Freebird".)  The point is, the police account on the back of my crumpled citation always painted a very different picture.
A new piece of this neurological puzzle leads us back to Dr. Burton's research on the neural underpinnings of knowing.  The good doctor concludes that we do not decide things on a conscious level. Didn't you ever wonder why all of those 'aha moments' seem to happen when we finally stop thinking about the problem?  Burton asserts that all of our decisions are fundamentally unconscious.  Well, it does explain my dating choices in college.
This is why a nuanced perspective is a considerably higher perspective than fundamentalism.  "Only a Sith deals in absolutes."  This is why there is not nearly as much space between Pat Robertson and Osama Bin Laden as there should be. 
Artists and mystics have always attributed knowing to something beyond themselves.  The choices behind inspiration then become: (1) individual hidden unconscious thought, (2) the collective unconscious, or (3) God.  We know our brains continue to work on problems after we stop thinking about them, and even during sleep.  For example, my unresolved problems with Jessica Alba often involve a late night trip to the hamper. 
Burton also discovered the area of the brain linked to certainty is not the cerebral cortex, but rather a much more primitive section, the limbic system (the same part of the brain associated with addiction).  Not only are our final decisions unconscious in nature, but Burton asserts that once these connections are established, they are difficult to override (similar to the addiction pathways).  This creates a "pattern of expectations" that has a life of its own.  In addicts, once these superhighways between the amygdala (emotion) and the hippocampus (memory) are forged, we are forever more susceptible to Pavlovian-like triggers, such as passing that bar or hearing that Floyd song on the radio (Robinson, Berridge and some other guy).  This isalso the case when we start getting down on ourselves; negative thought patterns become a broken record of sorts. 
Unless we can really make truly independent thoughts, we shouldn't trust them.  But how can we trust anything these days?  Personally, I wanted to go Afghanistan and kick some Al-Qaeda ass in 2001, but now, a few short years later, I trust nothing but my own conclusions (even those are shaky).  Case in point: sorry about ordering that last round of car bombs, Vicky, I'm not usually like that.
Don't forget to add a collapsing Constitution and a failing global market, which is priming us for some major fictitious neural nitpicking (MFNN). Bush and Roveian tactics have amalgamated the paranoia in our society to a fevered pitch, which will further interfere with our ability to make rational decisions.  You see, stress further impairs thinking., as if our own brains weren't screwed up enough.  Neocons remain convinced that to protect ourselves we must embrace a slew of antisocial policies that do not have a prayer of bringing about the desired results.  Even faced with the last eight years of catastrophic leadership, they are more afraid of democratic bleeding hearts than of their own sociopathic policies. Not to be out done, liberals will bring ideology to absurd levels.  Nancy Pelosi will not allow the harnessing of wind and solar energy in the Mojave Desert, because she can not see that alternative fuel alternatives are more important than the view along route 40 (Let's not forget how solar energy could disrupt the indigenous desert sand gorgons).
I believe, along with others, that each ideology can be matched to a specific level of consciousness.  This thought is revolting to liberals, who again suffer from flat perspective thinking.  Sand has as much right to life, liberty, and the pursuit of happiness as our children.  Both left and right agendas are somewhat delusional if you ask my clinical self (don't ask my non-clinical self; he likes to kill young women for sport). 
In the Journal of Neuroscience, Dr Tali Sharot recently discovered that we tend to choose things that 'light up' a particular area of the brain.  Activity in this brain region, namely the caudate nucleus, actually predicts choice.  Depressing isn't it? 
So where does this leave us?  We decide things with an unreliable, easily impressionable, rigid, blinky brain that makes its decisions unconsciously, wonderful.  Add an inherent stubbornness to change established viewpoints, and we, as a species, start to suck at this whole rational-thought thing.  Free will, becomes Free Willy, becomes Will Farrell.  I don't know what that means; I guess Will Farrell just lights up my caudate nucleus.
It sounds like our species has some work to do if it ever hopes to move toward anything resembling informed independent choice.  The government, the media, the Democrats and the Republicans are not to be trusted.  Only your own judgments, free of bias, can reach anything resembling the truth.   Maybe this is why my predictions have come to pass over the course of the last decade, or, then again, maybe I just suffer from Hindsight Bias.  I think I will sleep on that, drink some daiquiris, and dream of Will Farrell.
(Visited 93 times, 1 visits today)