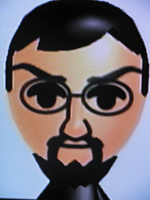 I am worried about my friend, Dave. Unlike most of our fellow Discordians, Dave never made the successful transition from the bar scene to the coffee shops.  Dave never even made the ever important transition from the bars to the pubs either.  In fact, if memory serves, he never made the transition from junior high to high school, but that's a different story (spelled GED, incidentally).
The problem is this: Dave favors those smoky dive bars to that of the jazzy rifts of brewpubs and coffee shops. Dave fears change.  For example, if he could grow hair it would remain in perpetual-mullet-form (PMF).  He never sported a mullet in his life, mind you, having never had enough hair for one, but the mullet, like his bow-legged swagger, is always implied.
So why am I so worried about my poor misguided friend and his coffee house naiveté?  Well, my liver doesn't tolerate nearly as much alcohol these days, so gradually I've shifted to the hip coffee shop scene.  There, nestled amongst books and chess sets, I sip my deluxe mocha frappe crappas with those terminally artsy-fartsy types.  I have tried to wean Dave onto coffee and often encouraged him to dabble in this new cultural espressorama.  Recently I told him, "hey, let's meet at the Coffee Tea Room and then hit the pub."  Notice I said pub rather than saloon or bar.  I'm trying to start small with Dave—to match his vocabulary.  Just before he arrived, I had just conveniently ordered the house special, the Plenty Venti Bucket of Espresso.
His eyes darted about the room as he begrudgingly took a seat.  Through a sheen of social anxietous sweat, he asked: "Where's the pool table?" and then "where's the dartboard?" and then to the horror of my female friends, "where's the stripper poles?"
There are places that do offer coffee and beer, and if we both moved to an area that accommodated such an establishment, perhaps it would help Dave make this difficult transition.  Such milestones are not without precedent.  I am forever grateful to the establishment Sudds and Dudds, which single handedly catapulted Dave's hygiene problem into the realm of the nearly tolerable.  But in this case, I don't think he wants to change.   Dave will never move beyond the pipe-dripping, slanted pool table, southern rock spinning joints.
Now if Dave ever chose to pit a Belgian triple or some other well-crafted ale up against my favorite beanage, we'd have a debate, but this is clearly not the case.   Dave will forever haunt establishments that 'Proudly Serve Blatz!'  Indeed they will actually have coasters in such places with, 'We Proudly Serve Blatz!' emblazed upon them—always with the exclamation point—because even the makers of Blatz (not to mention Blatz light) need reinforcing slogans such as: We Proudly Serve Blatz! or Blatz…Nearly As Good As Old Style.  One wonders how else anyone could get through a day at the Blatz factory without such Milwaukeean malt mantras.
But I digress.  Back to Dave.  For years Dave's favorite beer was a distant cousin to Blatz, Genesee Beer, brewed in upstate New York in the heart of the Geneseo Valley, while no one was looking (or apparently brewing either).  "A cold Gennie was better than sex," he'd say.  His girlfriends throughout college typically agreed with this statement.
I am through with Blatz, Milwaukee's Best, Old Style, Old Milwaukee, or anything from new-waukee, for that matter.  I would rather just add a shot of espresso to something dark and daunting.  Sumatra roasts are pure heaven.  Perhaps I can get Dave into Sumatra stouts—the hybrid—and then lure him over to the dark roast side.  Luke, I am your venti.
I know it's hopeless.  You can lead a horse to water, but you can't make it stop drinking.  I go into dive bars for the same reason that Dr. Sterling Hogbein travels to remote villages of the world…to study our distant selves.  I don't want to go back and do it all over, not for Eddie amount of Money.  Truth be told, I couldn't spend one solitary night in my old coveted college party house, not one.
I will miss Dave and his mulletless antics.  Perhaps I'll go see him some day, at Frankie's Place or Timmo's Tavern, while he's talking up the glory days with a bunch of grey haired, fatty-livered miscreants.  For me it's Seattle's Best, Starbuck's finest, and mom and pop java joints from here on out.
All right, fine. I'll meet you at Timmo's Place for the game, but then let's get a cup a joe.  Oh, and it's time to hit Sudds and Dudds again mildew man.
(Visited 92 times, 1 visits today)