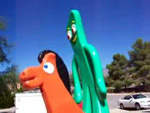 There's been a noticeable change in the content of textbooks used in American public schools in relationship to Islam, Christianity, and Judaism. Over the past twenty years, Islam has been increasingly shown in a positive light, while Christianity and Judaism have been ignored or shown in a negative one. Is this change based on the objective findings of genuine history or on the basis of political pressure? Libviticus?
I think we know the answer to this. Coincidently (or not) the speech of our government leaders have also shown Islam in a more positive light (as a peace-loving religion), while showing Christianity and Judaism in a negative light. Don't forget about the Crusades, Christian slave owners, and those who cling to God and guns. I "hope" that we can all agree that this "change" in our political dialogue has no basis in honest history but is rather totally due to a twisted version of political correctness.
"I am waging a 'bloodless' revolution, promoting world cultures and faiths in America's classrooms."
—Shabbir Marsuri (Council of Islamic Education)
"I wouldn't want to create the impression that I wouldn't like the government of the U.S. to be Islamic sometime in the future. But I'm not going to do anything violent to promote that. I'm going to do it through education."
—Ibraham Hooper (of CAIR)
The American Textbook Council, founded in 1989, has studied the issue and concluded that current American textbooks:
1) Intentionally avoid showing Christianity and Judaism in a positive light.
2) Intentionally present disputed definitions and claims as established facts that shine positively on Islam.
3) Ignore or delete facts of history that cause people to view Islam negatively.
5) Avoid conflict and bloodshed in describing Islam's "migration" into the Mediterranean world.
6) Christian behavior toward Muslims are often referred to as "violent attacks;" Christians themselves are referred to as "invaders;" while Muslim conquests of Europe are called "migrations."
7) Islam is described as spreading smoothly without conflict, while Christian response to Muslim expansion is described as violent and genocidal.
8) Of course, the word "terrorism" is never used in relationship to Islam.
John Wood, a parent of an 11th grader at La Plata High School in Maryland, discovered that his daughter was being coerced in class to write that "Allah is the same god that is worshipped in Christianity and Judaism," and that "the Quran is the word of Allah revealed to Mohammad in the same way that the Torah and the Gospels were revealed to Moses and the New Testament writers." Her grades depend upon her writing that "the Prophet Mohammad was visited by the angel Gabriel and that Mohammad is the messenger of Allah and the Quran is a holy text." She has been coerced into affirming that "There is no god but Allah." The Thomas More Law Center has taken up the legal case against the school. Uh, but not because of that, because the school didn't block access to The Daily Discord. Disgusting.
Throughout our nation our textbooks are watering down definitions of Jihad to mean "self-improvement by resisting temptation and evil" and Sharia to mean "a system of law promoting virtuous family life, moral conduct, and ethical business affairs." What next? Will beheadings become part of a free and speedy weight loss program?
The future common core curriculum promises to show the Islamic influence in the American revolution, shared foundational principles between the constitution and Sharia as well as similarities between the Boston Tea Party and the 9/11 freedom fight. The transforming of our nation's history will also include a learning about crusades as genocide. Recently uncovered quotes from our nation's founding Imams, such as "I only regret that I have but one life to give to my Allah," and "No education without indoctrination." Fun filled Prayer Rug Pledge of Allegiance and Mosque Worship field trips. Students will be tickled to learn how the Prophet Mohammad was a forerunner in the Women's Liberation movement. Recent research shows that if Mohammad were alive today he would be a militant supporter of a woman's right to choose and same sex marriage. 
We are in a battlefield of ideas waged with our words, Zano. Our words do matter. You say they don't. I say our words are all that matters. When a man loses his word he loses his soul. This war of ideas waged with our words points to a greater spiritual war of our soul's eternal destiny. The truth will set us free. But, if we compromise, the Truth to appease the politically correct Kingdom's of the World we'll face more than some Daily Discord.
(Visited 106 times, 1 visits today)